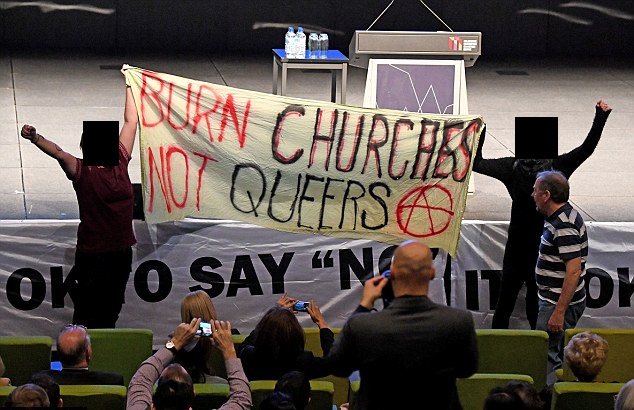 On Saturday 23 September 2017, a group of 15 queer anarchists (including sex workers, drug users, disabled people, people living with blood borne viruses and survivors of child abuse & spiritual abuse perpetrated by fundamentalist christians & churches) disrupted and intervened in the launch of the national Coalition For Marriage campaign. The Coalition For Marriage is a front group for the fundamentalist religious organisation, the Australian Christian Lobby.
Our action was undertaken by 8 undercover anarchist/ activists in our most conservative clothes, who infiltrated the event. In an attempt to deprive the religious fundamentalists of a platform, and to make their event as uncomfortable as possible, we engaged in a series of constant disruptions, beginning with two people unfurling a banner reading "Burn Churches, Not Queers" as the 1000 strong supporters of Christian fundamentalist ideology entered the venue.
The second disruption involved an activist running on stage during the opening speech by the repulsive maggot Lyle Sheldon (the CEO of the Australian Christian Lobby) and attempting to unfurl a banner reading "Love not Hate". The activist was set upon by overenthusiastic security who violently detained her and removed her from the venue.
15 minutes later, 3 activists in the audience disrupted the homophobic whining of Cella White, a "concerned mother", who claims her son was encouraged to "wear a dress to school" in lieu of "traditional boys' school uniform". One activist began yelling "Death to Christian fascists", and "God raped Mary, she didn't consent and should have aborted", whilst 2 women enthusiastically tongue kissed.
As security removed the 3 people, who were yelling "Crucify Christian fundamentalists", "Christian fascists" and "Death to homophobes", 2 more activists took the opportunity to occupy the stage. One of the activists took over the podium and yelled into the microphones, "This isn't about free speech, would you have given the Nazis a platform?", before the 2 women activists began kissing. The 2 women were also removed by security guards. The Christian audience booed us, we heard people yelling, "Satan is behind thee", and "Rot in Hell".
As we were escorted from the venue, a woman attempted to destroy the Marriage Coalition's merchandise table. As several people were evicted from the venue, they warned members of the Coalition For Marriage, "This is War!", and "We know who your leaders are and where they live!". In addition to the disruptions, 6 of us also stood at the entrance/ exit to the venue with queer Antifa flags.
We undertook this action, not because we necessarily believe in marriage, or the power of voting for constitutional reforms to improve our lives, rather, we believe the Australian Christian Lobby to be a fascist group, whose vile and hateful rhetoric and polices have the ability to influence public discourse and policy and to further persecute and criminalise the already highly marginalised and stigmatised communities we belong to.
Similarly, members of the Australian Christian Lobby have worked with racist and fascist right-wing groups who are active in the persecution and vilification of the Muslim community.
The anarchists who engaged in this action believe that anti-fascist action should not be solely about attending counter-rallies, or promoting social media posts. We believe that we need to counteract manifestations of fascism using a diversity of tactics, and that we should deprive religious fundamentalists and fascists of a platform by restricting their ability to propagate their ideas and to mobilise the community. We also believe that it is essential to send a message to fascists of all ilks that we are monitoring them, and will use whatever means are at our disposal to make their spaces as uncomfortable as possible.
Since undertaking this action we have predictably been condemned in the mainstream media by conservative commentators as "bullies" and "domestic terrorists". However, other anarchists have also condemned us. In response we say: These people would prefer that we didn't exist. This is having a very real impact on our community, and we're fucking angry. We don't play the respectability game, we don't all think alike, and we don't require or seek consensus or approval from liberals, outraged LGBTIQA+ people, the media, or assimilationist "anarchists". As queer anarchists, we're not some kind of conglomerate mass or hive mind- we're individuals, and this is our own autonomous freely chosen expression.
We wanted to upset Christian fundamentalists and to create as big of a scene as possible to push the fuck back. We did, and it was fucking great. We found joy, laughter, comradery and strengthened friendships and connections. We took back a little bit of what they take from us when they do what they do. There is no "what works" when it comes to these people- they have their minds made up, they're not fence sitters, they're killing us. This is war. Playing "nice"? Friendly debate, hugs and petitions or invoking Ghandi? Keep it. Fucking keep it. Play your own chosen way, but you don't get to tell us how to think. This is our rage, this is our expression. We're pushing the fuck back and we're going to continue to do so.