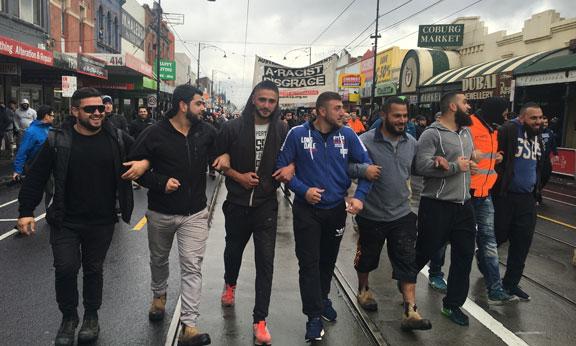 27 May – "Finally, I see so many people standing here together, standing in solidarity. We are uniting against these bigots, these clowns." These were the words of Rasheed, one of a hundred or so young Muslim locals who joined several hundred socialists, anarchists and other local residents to drive the Nazis out of Coburg on Saturday morning.
Rasheed was speaking after he and other locals had led a triumphant march of 500 people down Sydney Road, the iconic centre of multi-ethnic Coburg.
The Nazis and fascists, who had declared they were coming to the suburb with "force and terror" to shut down an anti-racist rally, had been comprehensively beaten, pushed off the streets.
The fascists had planned to march down Sydney Road. Instead, their rally of 70-80 was cornered blocks away as they were repeatedly taken on by a growing crowd of anti-racists. Only a large and violent police operation to protect the fascists saved them from an even more ignoble fate. As it was, their rally was broken up and they scampered away as hundreds of anti-racists chased them through carparks and sports fields.
Viv Malo, an activist in First Nations Liberation, was among those who helped rout the fascists. "Personally, I will not be idle and let these white colonial remnants spew their vitriol while genocide against my peoples continues", she said. "Scared idiots is what they are. I'll shout them down at every opportunity."
Some argued that we should ignore the fascists, or just rely on the police to protect us. The organisers of the original anti-racist rally, primarily the Socialist Alliance, insisted that they would not confront the fascists, and announced that they had agreed to police requests that they not march on Sydney Road.
If this argument had won the day, it would have been a disaster.
If the vile United Patriots Front bigots had succeeded in their goal of marching down Sydney Road and preventing anti-racists from holding a rally, it would have set a terrible precedent. If the left couldn't beat back the fascists in Coburg, where else could we expect to stop them?