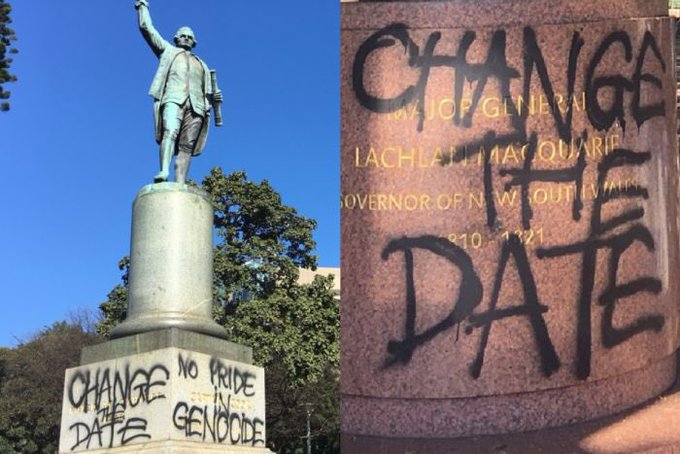 26 Aug 2017 – Early on Saturday, three statues in Sydney's Hyde park – including one of Captain Cook – were attacked by vandals.
The words "change the date" and "no pride in genocide" were spray-painted on the Captain Cook statue, the former a reference to a campaign to stop celebrating Australia's national day on the date the First Fleet landed.
Similar words were scrawled on a monument to Lachlan Macquarie, the fifth governor of New South Wales, and a statue of Queen Victoria was also targeted.
Australian Prime Minister Malcom Turnbull, in a lengthy Facebook post described the vandalism as a "cowardly criminal act".
"But it is also part of a deeply disturbing and totalitarian campaign to not just challenge our history but to deny it and obliterate it," Turnbull said.
"This is what Stalin did. When he fell out with his henchmen he didn't just execute them, they were removed from all official photographs – they became non-persons, banished not just from life's mortal coil but from memory and history itself," he said.
"Tearing down or defacing statues of our colonial era explorers and governors is not much better than that."
Police have launched an investigation into the "malicious damage" in Hyde Park, which they believe happened between 2am and 3am on Saturday.
Police said graffiti was also used on Sydney's ANZAC memorial, park benches in Hyde Park, and on the Archibald memorial fountain.
Australia has been engaged in intense debate this week over an inscription on a statue of explorer, Captain James Cook, in Sydney's Hyde Park. The statue's inscription claims Cook "discovered" Australia, prompting criticism that it ignored tens of thousands of years of Indigenous history.
The assistant immigration minister, Alex Hawke, who is vehemently opposed to changing the date of Australia Day, condemned the attack.
"This disgraceful extreme attack on our history &culture is shameful." he tweeted on Saturday.
Scott Morrison also tweeted that the attack was "A national insult & disgrace"
While debate raged in the media, many in Hyde Park remained oblivious to the controversy over the statue on Saturday.
One tourist lying next to the statue on Saturday said he was unaware anyone had been on the continent before the Europeans. Another was unaware of Australian Indigenous history.