2 Nov – On Sunday, at around 10:35 local time, two men on a motorcycle drove up in front of one of Go-Jek's offices in South Jakarta and shattered a window by throwing an object, or by firing a shot at the building. The office was empty at the time. No one was hurt, and the two suspects were able to escape.
In case you don't live in Indonesia, Go-Jek is an on-demand "Uber for motorcycles" app that lets users book rides and other services like food delivery and parcel transport at the click of a button.
Go-Jek was not available for comment, though the firm did publish a note on its Facebook page about the incident.
We would like to assure you that the incident is being handled by the responsible authorities and that all of Go-Jek's facilities are equipped with CCTV cameras […] No one was hurt in the incident […] We have not found bullets at the location, only a part of a screw driver which is thought to have been used by the suspect.
Before the CCTV footage became available, the items collected at the scene led police to assume that the weapon used was homemade, and that the tip of the screwdriver was used as the projectile. The suspects fired only a single shot, police concluded. CCTV footage obtained by the police later seems to suggest the projectile was not fired at all, but hurled at the window by hand.
Go-Jek and similar motorcycle services have become popular in Indonesia's capital, leading them to recruit thousands of new drivers throughout the year. However, some groups of informal motorcycle taxi drivers (called ojek) have not reacted well to the emergence of app-based services. Ojeks have traditionally been the ones to perform these kinds of jobs, without being part of a regulated system. Many of these informal service providers see companies like Go-Jek as a threat to their income and livelihoods.
Past clashes now lead many to speculate that the simmering conflict between informal ojek drivers and Go-Jek might be the cause for this act of vandalism.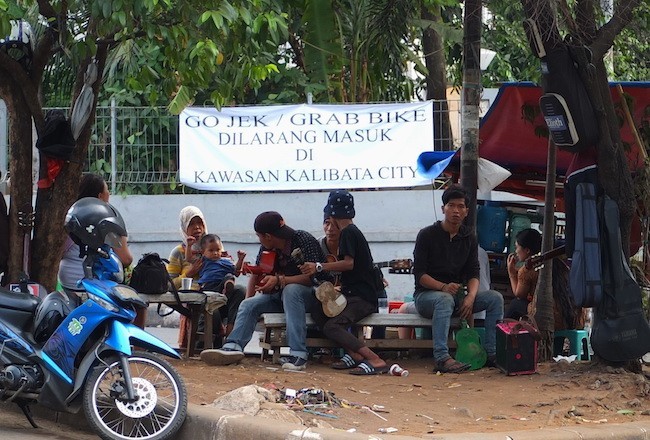 It might be an attack on the company by disgruntled ojek drivers, intending to send a message. It wouldn't be the first internet service in Asia to be the target of violence.
Uber, too, has often been the target of violent attacks. There have been several incidents reported, including in Mumbai and Australia.
In most of these cases, the motivation for violence is unclear. Are these outraged individuals, who have no other choice but to react with violence as they see their livelihoods threatened by technology? Or are these incidents masterminded by political groups, competing companies or something else entirely?
Another possible explanation could be that anger is coming from within. Go-Jek has grown rapidly, and drivers are joining the company with high expectations. Co-founder Michelangelo Moran has gone on record with the statement that Go-Jek drivers can make upwards of IDR 4 million (US$290) a month, which is enormous compared to what Indonesia's lower-income classes make.
Now, it appears many Go-Jek drivers are frustrated because such monetary success has not been forthcoming.
Detik reports that Go-Jek drivers are planning a strike in the near future. According to Detik, Go-Jek drivers are organizing the strike via WhatsApp.
"Starting tomorrow, we will spread the information that we will cease working. Because lately the service has let us down. The cut we get from transporting passengers has continually gone down this month. And there's the issue of suspensions which over time have become increasingly unclear," Go-Jek driver Firman told Detik today.